Libra Esva 2.5.0.1 Released
Lecco, 15/07/2011
Libra Esva 2.5 has it's first update!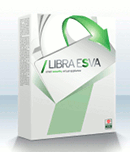 Here it comes the new Libra Esva minor release version 2.5.0.1.
BUG Fixes
Quarantine shows clean emails even if not stored into quarantine
LDAP default MSAD domain not saved.
Add to whitelist from message details not working
License user count error without Recipient Verification Active
Whitelist & blacklist email field lenght too short
Alias field lenght too short
Import Backlist imports into whitelists
Change digest report release address to orinignal message recipient insted of quarantine recipient
Color coded messages error (MCP displayed as green)
Trusted network change causes impossible future changes to some parameters.
NEW FEATURES
Blocked message report now is filtered out for block reason (RBL, SPF, etc)
Multiselect extended to WhiteLists/BlackLists
https://www.libraesva.com/wp-content/uploads/2014/10/download.jpeg
204
204
Paolo Frizzi
https://www.libraesva.com/wp-content/uploads/2022/10/Libraesva_logo_RGB-208x30-1.png
Paolo Frizzi
2011-07-15 12:30:38
2015-01-02 19:19:38
Libra Esva 2.5.0.1 Released