Libraesva Email Archiver Recognized with the Best Value Badge from Capterra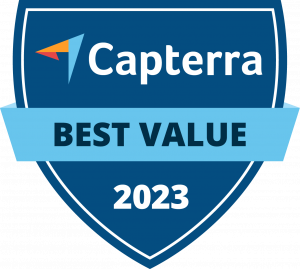 We're thrilled to announce that Libraesva Email Archiver has received the 2023 Best Value Badge based on feedback from Capterra users.
Capterra synthesizes verified end-user reviews to recognize the most highly-rated products in a specific software category, helping software buyers make more informed purchase decisions. (Learn more about the methodology here)
Libraesva Email Archiver has earned an overall rating of 4.9 (out of a possible 5) on Capterra. Thank you to all of our users! It would not have been possible without your support and product feedback.
"Libraesva is pleased to receive the "Best Value" badge for our Email Archiver solution. As businesses across the globe face increasing security and compliance requirements, Email Archiver provides an easy to use solution that provides peace of mind for their businesses", said Paolo Frizzi, CEO and Founder of Libraesva. "We are thankful to our users for their help in making Email Archiver a 'Best Value' solution in the market."
Here's what our users have to say about Libraesva Email Archiver:
"It's incredible because our legal team is always needing an email from years ago or something and we can actually find it."- Patrick H.
"Users can search and retrieve archived emails quickly and easily using various search criteria such as sender, recipient, date range, keywords, and more. This can be a time-saving feature for users who need to locate specific emails from the archive."- Fabrizio Z.
Want to share a review? Click here: https://reviews.capterra.com/new/275747
About Libraesva Email Archiver
Libraesva Email Archiver is a powerful and simple solution for email Governance, Risk and Compliance; up and running in minutes creates 1:1 copies of all emails in a central email archive to ensure the security and availability of large amounts of data over a period of years.
For more information, visit https://www.libraesva.com/libraesva-email-archiver/
About Capterra
Capterra is the #1 destination for finding the right software and services for your organization, with 100,000+ solutions across 900 categories. We offer access to over 2 million verified reviews, in-depth product comparisons, and data-backed annual software ranking reports for over 500 types of software— saving you time, increasing productivity, and accelerating your growth. For more information, visit capterra.com