Libraesva triumphs at Cybersecurity Excellence Awards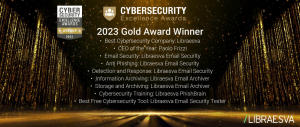 We are very proud to announce that we won the Cybersecurity Excellence Awards in all the 9 categories in which we were nominated!
"We congratulate with Libraesva for the recognition as a gold award winner of the 2023 Cybersecurity Excellence Awards" said Holger Schulze CEO of Cybersecurity Insiders, which organizes the 8th annual edition. "With over 800 entries in more than 300 award categories, the 2023 awards program is highly competitive. All winners reflect the very best in innovation and excellence in defending against today's evolving cybersecurity threats."
Libraesva would like to take this opportunity to thank all those who supported us with their vote and who implement our technologies in their companies every day!