Libraesva proudly announce to have been named as a finalist at the 2017 Computing Security Awards!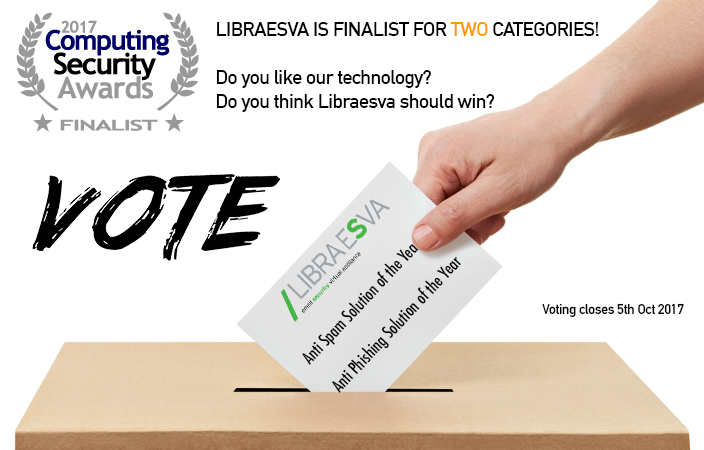 Computing Security Awards rewards solutions and providers which help organizations to maintain their e-mail infrastructure safe from cyber threats and attacks.
Libra Esva – Email Security Virtual appliance has already won the three previous editions of the prestigious award, competing as "Best Anti Spam Solution of the Year"! We are keen to be the first to win four awards in a row and ready to win the first one as "Anti Phishing Solution of the Year"!
Why vote for Libra ESVA?
Because Libra ESVA is the most effective email security gateway that ensures your communications and provides in depth analysis for all inbound and outbound messages.
Libra ESVA allows companies to enforce their email acceptable use policy and protects employees from Spam (up to 99,99%) and targeted threats, thanks to flexible and powerful settings and reporting, together with the new URLSand and QuickSand Protection and 14 levels of Anti-Spam, Anti-Virus, Anti-Phishing and Anti-Malware analysis.
Voting closes on October 5th, 2017!
Please spare two minutes and vote for us here
Winners of this year's Computing Security Awards will be announced at a gala dinner and award ceremony on October 12th, 2017 at London's Cumberland Hotel.
https://www.libraesva.com/wp-content/uploads/2017/09/Awards-2017-FInalist.png
450
704
Jessica Farina
https://www.libraesva.com/wp-content/uploads/2021/10/Libraesva_logo_RGB-bianco.png
Jessica Farina
2017-09-11 08:11:40
2017-09-11 08:11:40
Libra ESVA competes as finalist at the Computing Security Awards!