LIBRAESVA 2nd PARTNER EVENT: AN EXCITING LOCATION FOR AN INNOVATIVE COMPANY
Libraesva 2nd Partner Event, occured on May 18th, 2017, was a great success!
On that day, Libraesva Team met the most important partners and shared with them cyber and e-mail security news, retracing the way and the improvements that made Libraesva a strengthened reality with an International view.
A result achieved thanks to our partners participation and loyalty in our project.
Libraesva would like to thank all the participants, in particular:
… and to all those people who collaborated to the success of the event!
—
Grande successo per il 2° Evento Partner  Libraesva, tenutosi il 18 maggio 2017 presso l'Autodromo di Franciacorta!
Durante la giornata il team Libraesva ha potuto incontrare i suoi più importanti partner e condividere con questi le novità in tema di e-mail e cyber security, nonché ripercorrere la strada che, in questo ultimo anno, ha reso l'azienda una realtà consolidata, in grado di guardare oltre i confini nazionali.
Un risultato raggiunto grazie anche alla partecipazione e alla fiducia che i partner hanno mostrato nei confronti del nostro progetto.
Libraesva ringrazia di cuore tutti i partecipanti, in particolare:
… e tutti coloro che hanno collaborato all'ottima riuscita dell'evento!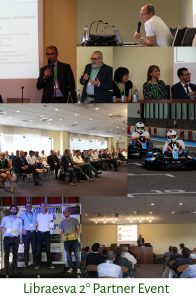 https://www.libraesva.com/wp-content/uploads/2017/05/Logo-Esva_2D_Trasparente.png
76
308
Jessica Farina
https://www.libraesva.com/wp-content/uploads/2022/10/Libraesva_logo_RGB-208x30-1.png
Jessica Farina
2017-05-25 13:14:11
2017-05-25 13:16:03
LIBRAESVA 2nd PARTNER EVENT: AN EXCITING LOCATION FOR AN INNOVATIVE COMPANY