Virus Bulletin: Spam Catch Rate of 99.96% for Libraesva
Libra Esva earned the third position in Sep 2016 rank, registering a catch rate of 99,96%, with zero false positives!
With the last Virus Bulletin comparative review, the company proves the excellent spam-catching percentages reached since the first test partecipation, in 2010.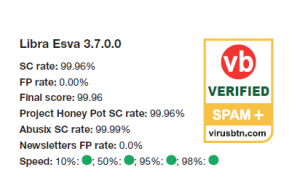 Thanks to three different antivirus engines, Libraesva is able to block dangerous emails, preventing from being downloaded and delivered to end users.
CEO, Paolo Frizzi, proudly reconfirms his satisfaction for this new VBSpam+ award, poiting out that Virus Bulletin test results can be trusted as they include some of the email security industry's most rigorous tests.
https://www.libraesva.com/wp-content/uploads/2016/11/vbspam-plus-0915.jpg
193
129
Jessica Farina
https://www.libraesva.com/wp-content/uploads/2022/10/Libraesva_logo_RGB-208x30-1.png
Jessica Farina
2016-11-18 15:34:25
2016-11-18 15:39:22
Virus Bulletin: Spam Catch Rate of 99.96% for Libraesva