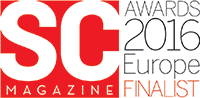 Libra Esva shortlisted as Finalist for the SC Magazine Awards 2016 Europe
Libraesva Srl selected as Excellence Award: Threat Solutions Finalist for the SC Magazine Awards 2016 Europe
Lecco, 24 March 2016: Libraesva Srl, has been named a finalist in the SC Awards 2016 Europe for outstanding threat solution products in information security. Libra Esva is recognised in the Best Email Security Solution category, which acknowledges superior products and services that help customers address the most pressing cyber-security threats. The winners will be announced at the SC Magazine Awards Europe ceremony to be held in London on Tuesday 7th June at a stunning new venue on the Riverside of the Thames, Old Billingsgate.
"Data breaches that compromise people's data and tarnish company reputations are causing mounting headlines across the globe. This is why it is more important than ever to recognise Europe's vast army defenders that stand out as exemplars of excellence, working largely unseen to protect our data."
The SC Magazine Awards Europe, are the information security industry's most prominent recognition. Winners in the Threat Solution categories are decided by an expert panel of judges, hand-picked by SC Magazine UK's editorial team for their breadth of knowledge and experience in the information security industry. The awards honour both the cyber-security professionals working in the trenches, and the products and services that help protect today's corporate world from a myriad of ever-changing threats.
"Libraesva Srl's solution represents some of the most innovative and effective security technology on the market today," said Tony Morbin, Editor in chief SC Magazine UK. "As attackers develop and practice new approaches to compromising sensitive information, companies are challenged to keep pace. Libra Esva was named an SC Award finalist for its efforts to raise the bar for the security industry."
Winners of this year's SC Magazine Awards Europe will be announced at a gala dinner and award ceremony on Tuesday 7th June at their new home, Old Billingsgate in central London. This is one of the most anticipated IT security events of the year and promises a great celebration as well as invaluable networking opportunities with some of the top corporate IT professionals in the country. To attend the awards, please visit scawardseurope.com for more information. Tickets can be purchased at an 'Early Bird' rate until midnight on Thursday 14th April.
https://www.libraesva.com/wp-content/uploads/2016/03/SCAWARDS2016_EUROPE_FINALIST_Horiz.jpg.png
98
200
Paolo Frizzi
https://www.libraesva.com/wp-content/uploads/2022/10/Libraesva_logo_RGB-208x30-1.png
Paolo Frizzi
2016-03-24 08:27:36
2016-04-17 16:10:37
Libra Esva shortlisted as Finalist for the SC Magazine Awards 2016 Europe