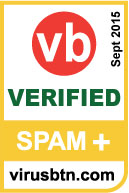 Libraesva VBSpam: The Italian Antispam solution beats the giants again
Libra ESVA reaches the highest scores in September
Virus Bulletin Spam comparative tests
Milan, November 2015 – Libraesva announces that Libra ESVA – email security solution has won the 13th VBSpam+ award recognized by Virus Bulletin, the leading security industry test. In the last test in September Libraesva has completed all tests with highest final score. The test, as usual, is consisted in a massive delivery of e-mail (139.292 total, 129.208 spam) with Libra ESVA reaching zero false positives.
In a world where spear-phishing is a serious problem for many organizations and spam is the back-ground noise of the Internet, it is important for administrators and for millions of users to work in environments protected from cyber-attacks.
Among the many anti-spam solutions that help to mitigate the problem of spam at the network level, VBSpam 2015 September test analyzed 13 full solutions; they all reached the required standard to earn a VBSpam award, and five of them achieved a VBSpam+ award.
Libraesva, the Italian leading developer and provider of advanced e-mail security solutions, is among the best five to achieve the VBSpam+ award thanks to its gateway ESVA – Email Security Virtual Appliance. Developed since 2005, ESVA gives enterprise companies a valid solution to protect their inbound and outbound communications at a constant 99,98% spam-catch rate and with zero false positives. A technical plus that came to light again in this latest VB comparative test, where the ESVA solution showed the highest results in spam-catch rate ability, speed delivery and false positives.
According to Virus Bulletin:
"Libra Esva will no doubt be pleased that we can show that the product doesn't hold onto emails to improve its performance: at least 98% of them were returned within 30 seconds. And when the emails did return, the product was almost always correct in its classification: only 24 spam emails were missed and no legitimate emails were misclassified. This resulted in a clean sheet, the highest final score of all products, and another VBSpam+ award for the product's developers in Italy".
Paolo Frizzi, CEO and Founder of Libraesva said with satisfaction:
"The results of the VBSpam tests confirm the quality of our solutions in blocking the spam in enterprise networks. It is an important recognition that brings to light how fundamental it is for companies to adopt a trustful solution to ensure the security of e-mails and communications".
For more information on the VBSpam test methodology:
https://www.libraesva.com/wp-content/uploads/2015/10/vbspam-plus-0915.jpg
193
129
Paolo Frizzi
https://www.libraesva.com/wp-content/uploads/2022/10/Libraesva_logo_RGB-208x30-1.png
Paolo Frizzi
2015-10-30 16:11:40
2016-04-17 16:11:44
Libraesva VBSpam: The Italian Antispam solution beats the giants again