Libraesva: winner at the 2015 Computing Security Awards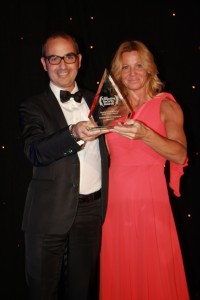 Libraesva won for the second consecutive year at the Computing Security Awards in London the award for 'Antispam Solution of the Year' with the ESVA solution – Email Security Virtual Appliance.
The Italian company, a leading developer and provider of advanced e-mail security solutions, gives the announcement the day after the awards ceremony, which took place Thursday, October 8 in London. On this occasion, Libraesva was also awarded a certificate of merit winning the first place in the category 'Security Project of the Year – Private Sector – General' for the project of communications security of the Institute of Marine Engineering Science and Technology (IMarEST), primary English Institute of research and training for the marine sector.
The contest 'made in the UK' has awarded the effectiveness of the email content gateway ESVA among the many data security solutions for its ability to protect and analyze the digital information contained in corporate networks. According to the organizers of the contest, ESVA has stood for excellence and strength in its ability to reduce the incidence of cyber-attacks in enterprise communications and for its flexible adoption and integration in professional contexts of various kinds.
Paolo Frizzi, CEO and Founder of Libraesva attended in person to the proclamation event and said:
"This second participation to the English Awards saw us competing in multiple categories – Anti Spam Solution of the Year, Security Project of the Year (Private) and Editors Choice solution. To win the first two is an important recognition of the work done this year with our technology, which serves since the beginning companies of various sizes."
Frizzi expressed the pride for the direction taken from a strategic point of view with the internationalization project for Libraesva; though aware that there is still much to do to defend domestic and foreign companies from cyber-attacks.
"The market requires a real help in the enterprise data protection and in the enhancement of the 'healthy' one. ESVA blocks viruses and spam with a 99.98% catch-rate allowing the user's inbox to host exclusively communications of real interest and utility"
he explained.
These prestigious awards will foster Libraesva in its expansion into foreign markets. In the UK in particular, it will facilitate the work of ISDG – Innovation Software Distribution Group, a British company that recently signed the agreement for distributing ESVA technology.
"We intend to continue to provide companies with our advanced technology solutions, sure of the reliability of our partnership in the field of information security and to invest in research and development, our primary investment asset"
said the manager in conclusion.
https://www.libraesva.com/wp-content/uploads/2015/10/IMG_1873.jpg
1166
778
Paolo Frizzi
https://www.libraesva.com/wp-content/uploads/2022/10/Libraesva_logo_RGB-208x30-1.png
Paolo Frizzi
2015-10-16 07:10:47
2015-10-30 16:21:12
Libraesva: winner at the 2015 Computing Security Awards